You know life would be easier with a great workspace, but how do you make that happen? Here are a few simple steps to walk through when setting up a space for a home office, whether it be a complete room or a dedicated area.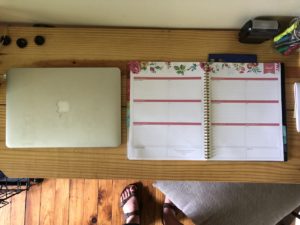 What will you be doing? What's the goal? If you need a big workspace on which to spread papers, that will make a difference. If you just need a little bit of room for your laptop and planner, you will have more space for storage. Do you need to sit comfortably or alternate sitting and standing? Determine ahead of time what your needs are, and then your setup will be able to meet those needs.
What do you need in it? It helps to gather everything you want included in your office space before you start arranging. Similar to knowing the goal, this will help you see what needs to fit, and it will also mark your progress as you work through the pile. As you gather, think through different categories — supplies, tools, electronics, furniture, etc. — and sets of items — charge cords for each electronic piece, file cabinet for files, etc. Don't throw stuff in that isn't necessary, but do try to cover all that you will use.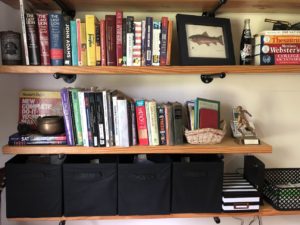 How (and how often) will you use it? Just like in kitchen setup, how often and where you use things matters for where you put it. If you use something a lot, keep it handy. If you just need to access the markers occasionally, out of sight or in a drawer in the cabinet will work just fine. If you use something every time you sit down, go ahead and make a place for it on your desk top.
Notes:
When you are putting stuff away, sit down often and test your reach. It may look convenient when you are standing there, but it may not be so helpful when you actually try for it.
Contain like things, i.e., one box for pencils, one box for notepaper, one drawer for tools and another drawer for files.
Consider whether access or aesthetic is more important to you. If you can't stand the sight of many things, go ahead and cover up as much as possible and keep your surface clean. It will be worth the extra reach for you. If you can handle a limited amount of visual clutter, pin things up and use open bins that are easy to get into when needed.
If you don't use it, don't include it.
Use charge cord clips to keep cords neatly within reach, and use twist ties or velcro strips to coil power cords on the floor. This keeps cords usable where you need them but out of range of your feet.