Are you looking for a full-fledged planner? Do you like decorations in everything you do? Well, the Live Rich planner may be for you. A friend shared with me how it has been working for her, so I thought I would pass along the possibility for all of you.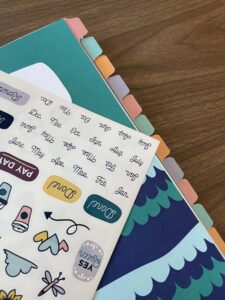 The Budget Mom designed this planner "to encourage you to plan, attack your goals, dream big, and be creative. Most importantly, this planner was created to make your life easier." Each planner comes with two sheets of stickers for you to customize your pages with a little fun. Erasable colored pens would round out the visual interest nicely.
The planner comes unlabelled, so you can start whichever month you would like, as well as label your weeks to start on whichever day works best for your routine. You have a page with the month spread, for big picture planning. Then you have a set of spreads for each week: one for a daily personal plan, one for meal planning and tasks, and one for finances. You can keep track of your time and tasks and projects and spending and goals all in one book.
Both the task and finance spreads are pretty in-depth, with plenty of flexibility for how you use them. You can have your meals laid out on the same page as your shopping list. You can record your grocery store spending in the same book as your meal plans and task list. You can sort your housework into a task list by day.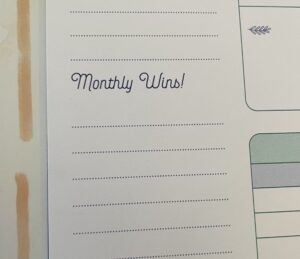 Different sections encourage you to write down your goals. There is also a small section encouraging you to make a stretch goal, and there is space each week to write down your wins for motivation.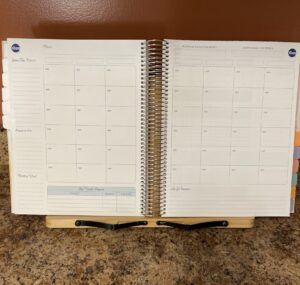 Because the planner includes so much, it is pretty big. One option would be to keep it on a book stand on your desk or kitchen counter. This would keep it handy and visible, and you could set reminders for yourself to add items that may come up when you are away from home.
Pros:
Two sizes available
Super flexible — start whenever, label weekdays however
Covers so many bases of life
Big, plenty of space to write and decorate
Focus on goals and habits — encourages getting creative with goals
Entire year stays together, if you like to have a year to review
Durable construction — heavy duty paper and strong plastic binding
One pocket folder in back of book for loose papers
Cons:
If you don't intend to use most of the pages, this would not be a good choice for you
Large size is pretty big, so hard to carry with you
Price: $48 + shipping