What is in your freezer? A freezer log can be helpful — as long as you maintain it! A dry erase board, or a laminated list of staples, or just a sheet of paper that you replace when needed…whatever works for you is key.
What's in the package? It may be on the log, but how do you find it?
It's all about see-through in my freezers. Use clear bags and containers as much as you can.
If not, stay on top of labeling each item before it goes in the freezer and becomes a mystery.
Where should it go? Keep like things together, and you will waste fewer food packages and spend less time searching when you need something specific.
Clear or wire bins to contain sets of items help so much! Small things fall through and get lost easily. Hold them together, and life will be simpler.
Separating types of food onto different shelves works well when you have a bigger freezer. I have lunches (individual meals) only on one narrow shelf, so it is easy for anyone to grab one and throw it in a lunch bag on the way out the door. Meat and bread and pre-packaged meals and veggies can all be grouped for easy access also.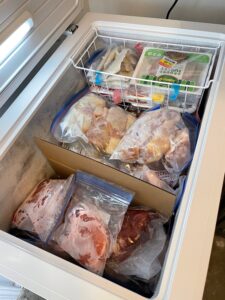 What do you do when you have a small freezer and bins to segregate items will waste too much space? Well, here's a visual example. A big piece of cardboard keeps pork on one side and the chicken and fruit on the other. Pork loins take up so much space and hide what is underneath, so they go to the bottom. One-off and small items (butter, apple butter) go in the single basket and under the basket.